Georgian Lead Profile
Adding Value through Design.

RegaLead's new Georgian lead profile is set to provide strong new sales opportunities going forward, and our new specialist powder coating technology additionally ensures the product is suitable for external use.
The Benefits of Georgian Lead Profile
Perfect curves
Our Georgian lead profile allows in-house manufacture, and so eliminates issues associated with lead times and transport damage. What's more, the lead is flexible, so can be bent easily into curves to create almost any design you require.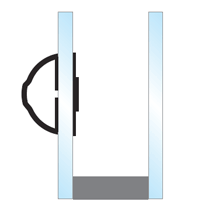 Backing-up of Astragal Bars
The Georgian profile can significantly reduce the costs associated with face fixed astragals. It is simply applied to face two of the unit, removing completely the need for back to back spacer and second set of astragals.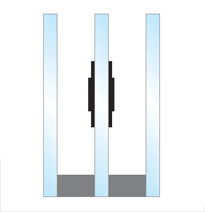 Triple Glazed units
The new profile even provides the answer to the triple glazing question 'in which cavity do I use the Georgian bar?' Simply apply to faces three and four - the centre pane - keeping it in the centre of the IGU.
Narrow cavity IGUs
At just 1mm thick the Georgian lead profile can be applied to faces one and two of the IGU to simulate the look of Georgian Bars, therefore eliminating the risk of bars touching the glass face during normal expansion and contraction of the unit.
Available in 18mm and 22mm (35 metre rolls x 2 per box)